So today is going to be an exceptionally boozy day due to Superbowl (beer) this evening and Mexican food (margarita) for lunch.
Right now I'm sat enjoying my first of many Margaritas, and waiting for my lunch of a Chilli Hot Dog. It's quite a good drink, but it has been agreed that my mum makes better ones (and boozier ones).
So this Margarita comparison got me thinking…maybe in 2011 I should try and find the perfect Margarita. I had an earlier thought about finding the perfect Martini, but I am a tequila girl at heart.
I'll probably blog my efforts with photographic evidence and bore you poor people on your RSS feeds. And some of you will help me with my mission, whether through sitting with me or buying my drinks for me; and I thank you for that.
Going off to be sociable now, and drink this Margarita (my glass looks rather lonely and full right now).
Blog you later.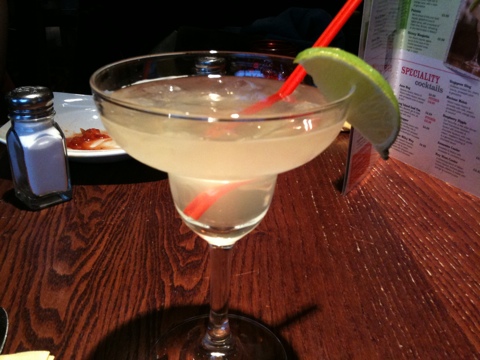 Also here's my Chilli Dog and shot of amazing tequila.